10 Misconceptions about CRMs Debunked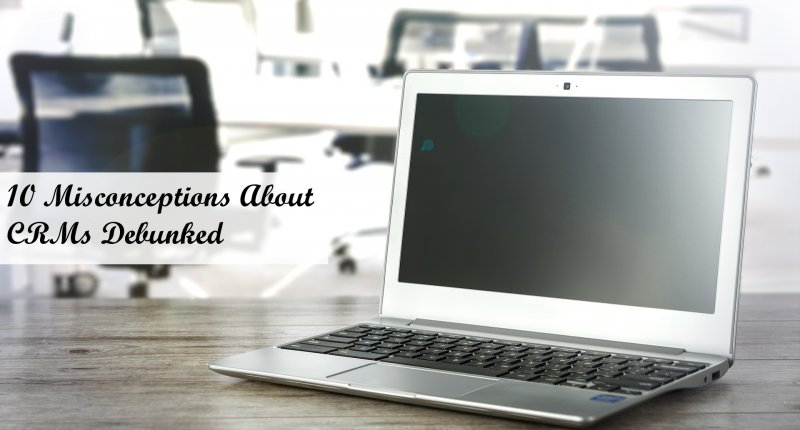 "Customers may forget what you said, but they'll never forget how you made them feel", says Brain Tracy, Author and Motivation speaker. Customers are the real assets of a company, you need to manage and analyze them throughout the customer life cycle if you want to improve the business. This is why Customer Relationship Management is considered as an effective approach to achieve this. However, there are several myths regarding CRM you need to understand. Here are 10 misconceptions about CRM:
1. It is Expensive
Something looks expensive only when it is not worthy. You can easily pay $10 for a delicious burger, but you will feel regret if you pay even $5 for an unpalatable burger. On the other hand, CRM costs less than you pay for your lunch when you consider monthly subscription. Additionally, you will be surprised by the extent of profit once you go for Customer Relationship Management.
2. No connection with Social Media
Social Media is the best way to build relationships with your customers as well as clients. Hence it is important that the CRM integrates with social media. In today's best real estate CRMs, you can get instant access to the social media info for your clients in your contact with a single click only. Moreover, it helps in the adaptation of your relationship with them.
3. No support on your Mobile
In today's world, everything is wrapped in your cell phones. You check your phone upwards of 100 times per day on an approx. It is necessary your CRM has its feet to your cell phone, because it is an effective way to provide your customers an ease for the interaction. Eventually, it includes a Mobile app through which responding has become an easy task for all.
4. Ultimately its you, who will work
This is a thing of the past. Previously, even for newsletters, they used to provide a blank sheet and you had to write and create designs yourself. However, things have evolved to a better extent. Now they provide professionally designed and written e-Newsletter. Moreover, the e-Newsletter they provide are completely automated.
5. Limitation in Automation
You live in a world where no one wants to work, but everyone wants outcome. In other words, automation has become a need nowadays. You can say automation is like a magic. Hence, in CRM also, people expect a complete automation. It is not stupid even, if you are paying much, you deserve automation. However, it is a myth that you don't get. Most of the Customer relationship management softwares allow you to automate your lead capture, mass assigned automated keep-in-touch call reminders, drip email campaigns and send e-Newsletters in your database.
6. CRMs don't provide content
As stated earlier, there are many things that belong to the past. Technology has been evolved with time. A very common myth is "CRMS don't provide content, they are just software". If you had said this few years back then it would have been true, but now it is just a misconception. Now, it provides content according to the need and demand.
7. You cannot determine your Return on Investment
This is another misconception which is a thing of the past. The best CRMs provide you special tools you need to see exactly what ROI (Return on Investment) you're getting. You get the ability to check if your customers are opening your email or not. It helps you in determining the key-performance indicators as it relates to your business goals. Moreover, you get to see how CRM is improving your business through its tools.
8. Old school ways were easier to keep in touch
Remember the sticky notes spread all above your table and bulletin board to remind you for particular reasons? Those were really effective. However, it doesn't mean you don't get these options in CRMs. It provides you mass assigned automatic keep in touch, reminders, birthday reminders and automated reminders for anniversaries. You don't have to use those antiquated methods of sticky notes all around your office.
9. You can't create video content
When it comes to marketing, video contents are considered as the most effective way. People expect video content from marketers. Gradually it has become an innovative way to connect with the audiences. It provides you with a video recorder and video library to create video content for your customers.
10. Setup is too complicated and lengthy
Gone are the days when technicians or guides used to take sessions weekly for the proper setup. Now you get end to end setup helps, you need not to worry about the configuration. The onboard team works closely with you to get every aspect of the system.
There are other myths and misconceptions too, which really confuses you while integrating with CRM. All you need is to debunk those misconceptions and go for it. In a few days you will see the change because it will improve your marketing strategy and you can offer more services to your customers. Eventually, customer service is the new marketing!